The short road to a better dog: Specializing in dog obedience, aggression, behavior modification and off-leash training.
---
Dog Training: Any Breed. Any Size. Any Problem.
Oliver's Travels Dog Training services the San Francisco Bay Area. I offer Board and Train and private dog training for a variety of behavioral and
dog obedience
issues including dog aggression, human aggression, resource guarding, separation anxiety, fear issues, anxiety issues, nervous issues, leash aggression, leash reactivity, pulling on leash, jumping on people, counter surfing, stealing food, chewing and destruction, barking problems, running away, not listening, growling, snapping, biting, door bolting, cat aggression, cat killing, and chasing. I also provide obedience training covering proper leash walking, Sit, Down, and Come to puppies as well as adult dogs. I teach advanced off leash obedience with modern, low level
remote collar training
, also known as ecollar training. If you would like to have a dog that comes to you every time you call, sits when you ask, downs anywhere, and will go to the Place command when guests arrive instead of jumping on them, without a leash and at any distance, I have the answers you're looking for. I offer ongoing support and after-care for clients for the life of your dog. Oliver's Travels Dog Training services the San Francisco Bay Area -- North Bay, East Bay, South Bay and the Peninsula.
From the simplest behavior problem to the most severe dog aggression,
Oliver's Travels Dog Training
can help you have a better dog.
Whether your dog barks and lunges at other dogs, guards and growls over toys and food, barks at visitors or whines incessantly, we can eliminate this behavior and teach your dog how to be calm and relaxed. He can learn not to react inappropriately to every day occurrences.

Beyond problem solving, a calm and relaxed dog is one you can spend more time with. At an outdoor cafe, he's lying relaxed under the table. On a hike or at the beach, he has the freedom to explore off-leash while you have the assurance he'll come to you when called. At home, he is polite and relaxed when company arrives.

My overarching goal is to improve your relationship with your dog. I'll do this by helping your dog change his default state of mind from quicksilver excitement to being calm and relaxed -- he'll have a greater capacity to "hear" you. And I'll also do this by helping you understand the small but impactful leadership techniques that get your dog not only to hear you, but to listen to you. Teaching your dog how to be calm is fundamentally the best thing you can do for his happiness and yours!

---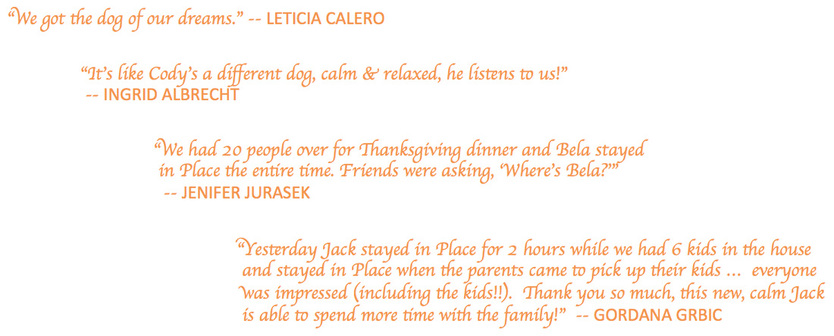 ---

Leadership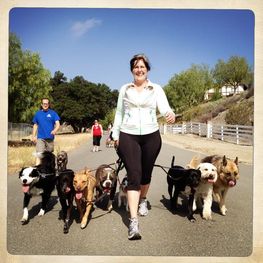 Struggling with your dog's behavioral issues is as tough on him as it is on you. What we sometimes don't realize is the level of anxiety and stress our dogs are under when they're displaying behaviors that make us anxious and stressed.

The impact of providing leadership and guidance to your dog is immediate. During our first training session, we'll teach your dog "Place" and you'll see a calmer, more relaxed dog who looks to you for direction.

After consistently exercising your leadership through duration work, threshold pauses, structured walks and waiting for food, you'll see a dog who is listening to you by default. Eventually, the impact on your dog is that he makes better choices even without specific instruction from you.

---

Balanced Dog Obedience Training, Balanced Dog
Having a balanced dog means having a dog who listens to you. He doesn't (over) react to outside stimuli -- be it another dog, the doorbell, the mailman -- and generally behaves in a calm, respectful manner.
Balanced obedience training includes the same elements:
Listen to what the dog needs, address each dog uniquely, no one-size-fits-all training approach
Respond to the dog's progress during training and adjust the approach accordingly
Stay calm during the process -- high energy, either from anger or excitement, is counter productive for most training exercises
Taking a balanced dog training approach includes focusing first on the dog's state of mind to teach him how to be calm and relaxed. A calm dog is less apt to react to stimuli making him more able to hear your commands. Balanced training incorporates a wide assortment of training tools and techniques finding the best fit for each dog. Please visit the
FAQ page
for more detail on my approach.
It's Not Easy, But It Is Simple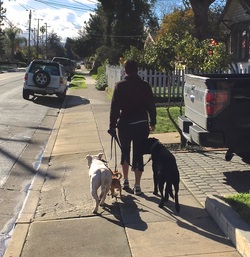 Dog training
isn't rocket science… not even as complicated as building a model rocket. There are some well-established techniques that anyone can learn and apply to his own dog. The challenge is using those techniques consistently until your dog understands that it applies to any and every setting, until he "generalizes" good behavior.
The biggest value I have to offer is sharing those techniques. I can make things even easier by doing the training for you letting you focus on maintaining (and enjoying) your dog's calm, relaxed state of mind.
I look forward to sharing what I learned with my dog Oliver. His journey to being a calm, relaxed and balanced dog was longer than your dog's journey needs to be. Along the way I developed a philosophy and learned approaches that have proved effective with countless dogs. I look forward to sharing them with you so you can enjoy
the short road to a better dog
!
---