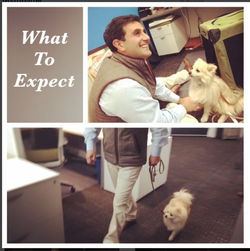 When dogs return home from a board and train, there's a certain amount of catch up for the humans; it's sort of a crash course those first few days where the owners discover all that their dogs have learned.

While this is wonderful and exciting, it can also be oddly challenging for the owners. The change in their dogs is so sudden -- board and trains are usually just two weeks -- that it's easy for owners to under estimate what their dogs can now do. Essentially, their expectations might be too low and if that continues, their dogs will meet their expectations!

Helping owners understand what behavior they should expect is an important part of my training program. It may be a high quality problem, but left unattended, it would still cause problems and is much better planned for and avoided than having to resolve after the fact.