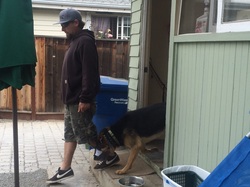 I was moving photos from the mac to the cloud and noticed these great shots of
Brian
working Ruger through thresholds. The way your dog defers to you in tight spaces -- and thresholds are always narrow -- speaks volumes to how he sees you, either with respect or not, and of course neither determines if he loves you!
Notice with Ruger, it's not just physical position, although that's important that he is not in front of Brian. It's equally important that your dog's state of mind is calm and relaxed. If you're experiencing any behavioral issues anywhere else, seemingly unrelated, be sure to look at how your thresholds look. They should look a lot like Brian and Ruger's do here!
And remember, every time matters ... to your dog, if not to you. Meaning that if he rushes past you once, literally vying for that valuable resource of space, that immediately puts an idea in his mind that perhaps he doesn't have to defer to you. It doesn't take long (a couple days?) of repeated "success" in that area for him to generalize that same attitude in other seemingly non-related areas: reacting to other dogs on leash, blowing off commands, etc.
How to avoid (or adjust back to good) the issue? Be as aware as your dog is about going through tight spaces, thresholds being the easiest to "practice" on. When on leash, pause for a half second literally on the threshold (the narrowest part of the doorway, not before it) and check that your dog is pausing both physically and mentally, too.
Hope that's helpful... let me know if you have any questions or comments! And thanks for modeling so beautifully for us, Brian and Ruger!