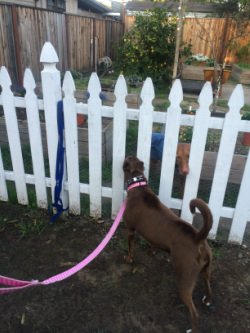 Does she like him? It's a great question. The owner
of the dark brown dog asked this after I sent her the photo describing it as a low-pressure greeting between her dog and the Vizsla. Both dogs have a history of dog reactivity and aggression.
The thing is, it doesn't matter. They might not like each other and that's got
very little to do with my expectations on their behavior. Whether they like each other or not, they should be able to tolerate each other's existence. They can choose to greet each other appropriately or avoid direct contact by walking away.
The Grocery Store
Consider how we act at the grocery store. It's probable that we wouldn't
like
everyone we come across. Yet, we still treat everyone with respect and honor some basic social guidelines:
we don't say anything rude
we essentially ignore them while we're careful to give respectful space
maybe we give a friendly smile if we make eye contact, but unlikely we'd actually talk.
That's it, right? We don't chit chat with people there, we don't introduce ourselves with the idea that we will engage on a personal level. In fact, all the while we're "interacting" with them, we're actually just going about our business trying to get everything on our shopping list.
And that's probably true for 90% of the time we're engaging in society outside the house other than at work or with friends and family. Our interaction with others is actually very limited and it's successful based on adhering to social norms which we practice whether or not we like the other people. It's based on respecting their right to share the same space as us.
We should have these same expectation for our dogs. The majority of the time they encounter another dog or person, they don't need to like them. In fact, they typically wouldn't or shouldn't engage enough to be able to come to that conclusion. They just need to accept their existence and practice at least the minimum bid of good dog-dog social skills:
don't threaten the other dog -- akin to our not making a rude comment ;-).
ignore the other dog but be sure to give appropriate space as they pass by
if they do directly greet each other, keep it short and simple and then move on.
Dog Parks and Playgrounds

It's hard to address dog-dog socialization and not discuss dog parks. To be direct, I don't have any use for them. I think it's terrific for dogs to play -- much like we enjoy the time we spend with friends, family, and co-workers engaging in conversation and enjoying their multi-faceted personalities. When dogs "connect" with others and they have riotous fun playing, there's not much cuter than that and there's no denying that they're really and completely having fun.

But I think that dogs playing is akin to children playing in the school yard... both go best with adult supervision. Like with children, unsupervised play can turn into trouble. Not always but enough times to warrant measures for avoiding or containing it. For humans to effectively supervise dogs' play, it's best if all the humans involved agree on what is and isn't appropriate as well as what methods to use to interrupt it. Unfortunately, most dog parks are frequented by complete strangers -- as random a group of people as you'd find at the grocery store actually ;-) -- and the likelihood that you'll agree on what's appropriate and how to interrupt inappropriate behavior effectively is very unlikely.

As much as we as a society tend to anthropomorphize our dogs, this is actually a good instance to add in a little human empathy: not all dogs like to go to parties where they don't know anyone, whether or not there's someone on "yard duty". Keep in mind when you take your dog out and about that he may not like unfamiliar humans coming up to him and petting him, he may not be comfortable around loud noises and in busy areas. Yes, he should still be able to behave appropriately in these settings but it's a good idea for us to realize where our dogs do and don't feel comfortable -- beyond what makes us happy. While his appropriate behavior doesn't hinge on whether he likes the other dogs, humans, or environments, your relationship with him will be better and stronger if you help him succeed by honoring what he likes and where he feels most at ease.