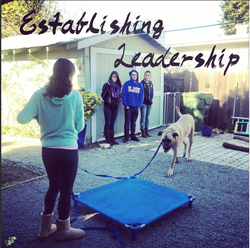 This gorgeous mastiff arrived for training nervous and wary. Because he's a dog, it's not surprising that he barked and lunged to compensate for his uneasiness. Because he's a very big dog, anyone around him quickly became uneasy, too.

He left training two weeks later a much calmer, relaxed dog. One that could hang out at a shopping mall -- we happened to visit Santana Row ;-) -- and take in all the sights and sounds not to mention the smells.

What happened in his two weeks with me, and very importantly was repeated by his family during the first two weeks he was back home, was that he was shown strong leadership that he could believe in and relax under. And I want to be clear that "Leadership" isn't code for heavy handed corrections. It's simply guidance for the dog so that he knows what's appropriate and also what's inappropriate.

A key factor in being able to guide your dog is that he listens to you and that can sometimes feel like a circular process because a dog needs to believe in your leadership to consistently listen to you. When Kodi's family was here to take him home we spent some time learning how to establish leadership with him. It's about starting small with relatively easy "assignments": Come, Place, Down. Then as Kodi learned to listen to them to do those things it's a natural extension that he can listen to them to stop barking at another dog or not be nervous as a loud truck passes by on the walk.

His family did a phenomenal job and were took those first two weeks to create a new relationship. This is what allowed him to defer to their authority around things that used to get him too excited (other dogs) or nervous (public places). Kodi's family still gets looks when they go out on a walk, but now it's just because he such a gorgeous boy!