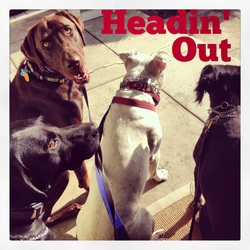 There's about 275 pounds of dog in this photo yet this pack is one of my favorite to take out together. They're calm, relaxed, and tuned into me for direction during the walk. Considering they are each very high energy, have high prey drive and are very "gamey", that may sound ironic that they're calm and relaxed on the walk, but that's the power of having a balanced dog.

An important key to helping your dog be balanced is differentiating excitement from anxiety. It's very common for us humans to see a dog running around, barking and jumping, as being very happy. We say things like, oh, he's just excited, as an explanation for his behavior as well as a tacit acceptance of its being okay. Actually, that behavior is probably not at all okay and besides being inappropriate for the moment -- perhaps you've had guests arrive or you're in a hurry getting the kids off to school -- it's also not healthy for the dog. If your dog isn't anticipating something exciting, like a game of fetch or a walk or playing at the dog park, then there's no good reason for him to be excited. What you're seeing in the moment is anxiety and uncertainty, neither of which is a healthy state of mind for your dog and neither of which is enjoyable for him, either.

Compared to what we're used to seeing, a balanced dog looks bored. He's calm and relaxed. He's not "on alert" scanning and searching for things that are moving outside your window. And on the walk, he's not focused in on the bushes anticipating something to move. He's focused on you -- matching your speed, stopping when you stop, paying attention not to bump into you as you turn left or right. That calm state of mind not only feels good to the dog, it is also what allows him not to react inappropriately to stimuli: other dogs, skateboarders, bicyclists. A calm dog can think, they can process information including the direction they get from you on how they should react to the stimulus.

It's an interesting shift in perception and one that may help you improve your relationship with your dog. Look with a closer eye the next time you see your dog acting "excited". Is the excitement appropriate, is there a reason for it? Or is it nervous, anxious energy being released because your dog hasn't learned other ways to behave. By your not encouraging the excitement and in fact discouraging it and giving him something more appropriate to do -- the Place command is always a good option -- you will be helping your dog in that moment and also over time as he learns to be calm as a default state of mind.

In case you're concerned, a balanced dog still gets excited and looks happy just as we enjoy seeing in our dogs. But the difference is we're actually seeing a dog who is feeling happy... not nervous and anxious mistaken for happiness by us.