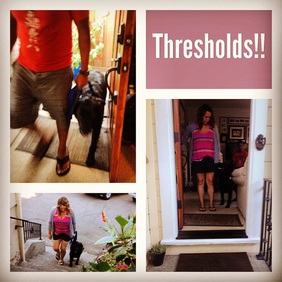 Maggie and her owners Shawna and Jim are headed to Los Gatos Coffee Roasting Company. But before they go, they're making sure to master thresholds with Maggie. She has a history of being dog reactive and though seemingly unrelated, how Maggie goes through the front door is a telltale sign as to whether she'll bark, pull, and lunge when she sees other dogs at the ever busy and ever dog friendly LGCRC.

By making sure that Maggie goes through the doorway in a calm and polite manner, Shawna and Jim are giving her a key reminder of their leadership. Believing in their leadership, Maggie can easily practice the obedience she knows even in high distraction environments for her.

Almost like magic, if your dog believes in your leadership, his behavioral issues disappear right along with the excitement, anxiety and stress that typically trigger the unwanted behavior.

So if you're struggling with your dog's behavior outside the house, make sure he is moving through thresholds calmly and politely. His physical and mental state should be with you, not anxiously trying to get through to what's on the other side. If not, wait till he is calm. This may take time in the beginning so it might be a good idea make sure you've already had your coffee... even if you're headed out for more!